On this page, we are particularly interested in ETAG Cluster 2 which focuses on two topics:
Students with sight and control of their own complex learning "big" data – #etag2a
Technology will be even more personal – #etag2b
For more information on how to contribute to the discussion, please see the how to comment section at the end of this page.

2a) Students with sight & control of their own complex learning "big" data – #etag2a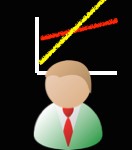 Highly effective institutions already use data to understand students' progress, set learning goals and discuss learning objectives. This data is often owned by the institution, however, and is not immediately shared with students. As with patients in health, we think students will have sight and control of their own very complex learning data. That data will be rich, multivariate and powerfully diagnostic. In future, students will understand their own data, be able to act on it directly, have a sense of "where I am" relative to preceding students, international competitors, students who are younger than them, and so on.
This issue is underpinned by the debate about 'what do we mean by learning'. Pisa suggests that a student's enjoyment of a subject may be as important as their examination results to their future and the wider economy. It is important to understand how students compare themselves to others and what "better" learning actually looks like. We could be explored through questions like: "whose data is it anyway" and "How do we create student demand for ownership of their learning data?"

2b) Technology will be even more personal – #etag2b

In future, technology will be more portable and will belong to students rather than institutions. We will be firmly in the world of 'bring your own browser' rather than "use our system", with a 24/7 "always on everywhere" default setting.
With wearable and personal technology, "powering down" or "we don't use them here" will not be an option so the challenge for education is to take best advantage of the opportunity. We can't "lock and block", we can't "ban and wait", we can't appropriate each technology with a "standard" acceptable version. Of course, this means that learning will spill out significantly more into the non-institutional time in the wider family and community. But as it does so, the consequences of being offline at home, or having parents who were "off line" could be damaging. We use pupil premium to intervene for equity – should that include home connectivity? And how does "secure assessment" fit in a world of diverse personal ownership? What advantage can we take of the opportunity that personal ownership brings?
Suggestions are welcome from all individuals, institutions and policy makers. We also want to know what works, what the barriers are and if you have any ideas about how to overcome them.  You can contribute your ideas in the following ways.